Action 3: March + Mobilize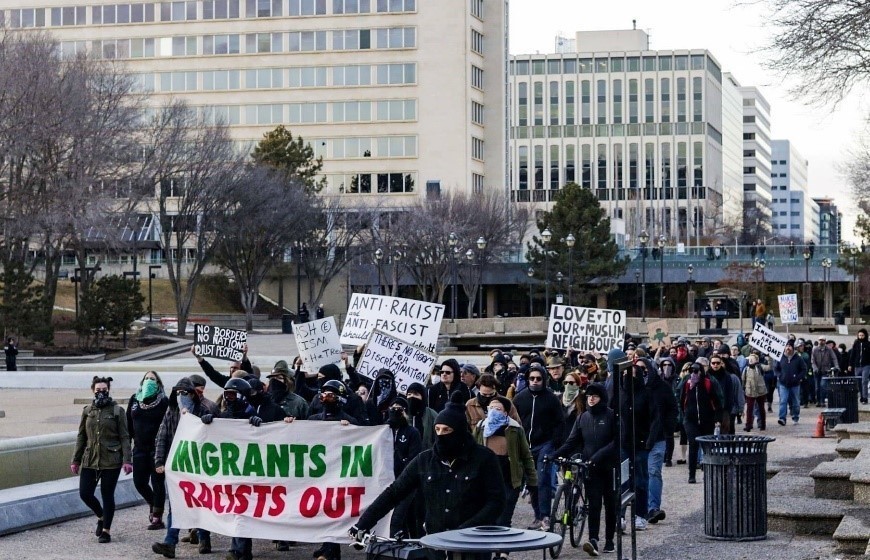 3A. Join rallies and marches
Canada's leading hate crimes researcher, Dr. Barbara Perry, said that rallying, marching, and counter-protesting in big numbers are the simplest and safest ways to demoralize and demobilize fascists. Bring family, friends, and co-workers. Establish a network. Rely on each other. Win!
3B. Take away their "Safe Spaces"
Share, post, sticker, and poster your city with anti-hate, multiculturalist, pluralist, and anti-fascist messages. It's another easy way to demoralize and demobilize fascists while promoting the world you want.
One hate group used a Royal Canadian Legion hall in Grande Prairie, Alberta. But the Legion's members literally went to war to kill the fascists who'd conquered Europe, so once good people alerted the Legion, the Legion acted quickly.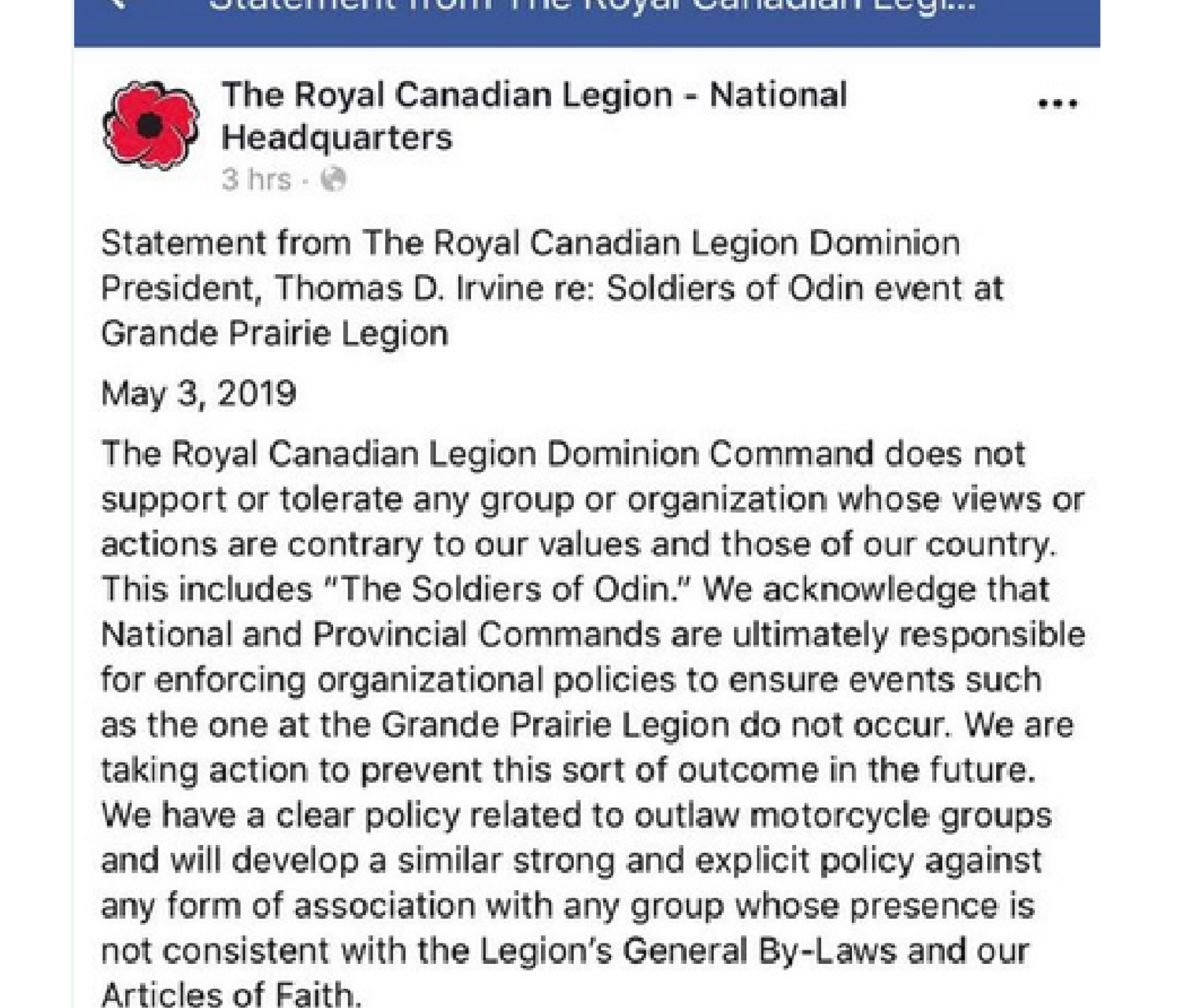 It's fun to laugh at fascists. It certainly demoralizes them. What if you could laugh and raise money for good at the same time?
3D. Organize co-workers, neighbours, and other people in your communities
Share information everywhere you go with posters, pamphlets, stickers, posters, and urls. Talk with people—you could even start or join a door-to-door campaign. Explain the threat and also what you can build together: a better community and a better world. Give them this url and others and encourage them to try one short-term, one medium-term, and one long-term action.
If you live in Canada, encourage people to vote by explaining what's at stake. Organize people to vote at advance polls. Drive them if you can. If you live in the US, help them register, too.
3E. Organize to make your union adopt counter-fascist resolutions and support and create their own counter-fascist work
Start a subcommittee in your union to teach about the fascist threat and what workers can gain when they're together. Teach members strategies for responding to fascists trying to recruit, harass, or intimidate people at work or outside.
Miriam Lafontaine

writes, "People are really disillusioned with the status quo, and the only other alternative they have is the far-right,' [said Montreal Industrial Workers of the World delegate Éric Default]. 'The far-left doesn't really talk much to working class people, especially in the countryside.'
"Soon after establishing itself, the Twin Cities defence committee infiltrated and disrupted a secret event by Holocaust denier David Irving, and then organized to disrupt a Confederate flag event….
"The [General Defense Committee] also aims to defend the people who get arrested in anti-fascist demonstrations by giving financial and moral support, with the goal of alleviating the repression of anti-fascism.
"The General Defense Committee of IWW Toronto works along similar lines, by raising legal funds for people who've been caught up in arrests following anti-fascist demonstrations, and by showing solidarity with them. This could mean things like driving activists to court or coming with them to testify.
"'Part of the clearer rationale was to establish faith and credit with groups that may have bad impressions of unions, or prioritize other forms of work, and to bring a more diverse group of fellow workers into the IWW,' said Erik D, Secretary of the Twin Cities IWW GDC, to Libcom in a 2016 interview.
"The Twin Cities GDC has stressed the importance in unions leading the anti-fascist fight because small affinity groups on their own won't be able to end fascism and authoritarian far-right movements. That's a sentiment that Default agrees with, stressing that labour unions should be used to facilitate a mass movement against fascism and the far-right, since most people are hesitant to support the use of violent or illegal tactics.
Journalist Nora Loreto writes,

"Too much of organized labour has forgotten that the primary role of unions goes far beyond dues-paying members. That people power manifests in various ways, but none so powerful, resourced and broad as the labour movement.
"Trade unionists should be arm-in-arm with Black Lives Matter and anti-fascist organizations. They should be supplying advice and tools to topple monuments. They should co-ordinate food, sound systems and a political analysis that cuts through the right-wing, divisive rhetoric that has seemingly confused some among the working class.
"In Canada, where union density remains much higher, at almost 30 per cent, the responsibility that trade unionists have is even greater. They should be linking arms with the thousands of newly arrived refugees, helping with relief efforts and volunteering their resources and time. They should be paying for anti-racist organizers. They should be boosting these messages in the mainstream press."
3F. Start your own counter-fascist group
And learn the reality instead of the FOX-style lies about the people on the front lines of fighting fascism, from an academic who studied them and their history.
Mark Bray, "Antifa: The Anti-Fascist Handbook"
Processing video...
How can you use and/or modify these tactics for your union, faith community, club, school, workplace, family, or other groups?
How can you reduce barriers to solidarity so that more people can support you, and you can support more people who want to organize, fight, and win?
Share your ideas with others in the struggle!